SYSTEM ANALYSIS AND MARKETING EFFICIENCY OF CURLY RED CHILI IN PENEBEL VILLAGE, BATURITI DISTRICT, TABANAN REGENCY
Ni Nengah Putri Adnyani

Dwijendra University

Agustinus Lende

Dwijendra University
Keywords:
System analysis, revenue cost ratio, curly red chili
Abstract
This research have tittle System Analysis And Marketing Efficiency Of Curly Red Chili In Penebel Village, Baturiti District, Tabanan Regency. Important research has been carried out in the village of Penebel, Baturiti District, Tabanan Regency. The population in this study are farmers who cultivate curly red chilies in Penebel Village, Baturiti District, Tabanan Regency, with a total of 252 farmers. Determination of the sample is done by simple random sampling by taking a sample of 35 people, namely 10% of the population of curly red chili farmers. The types and techniques of data collection used in this study are 1). questionnaire method, 2). interview method and 3). documentation methods. Questionnaire Method Is a data collection technique that is done by giving a set of questions to respondents to answer based on the form of the question. Interview method Is a communication process to collect information by means of direct question and answer between the researcher and the respondent. Documentation is one way to provide pictures that occur at the research site by using accurate evidence from recording sources. Analysis of the data used in the study are: 1). Shrinkage, 2). Production costs, 3). Reception, 4). Income, 5). Revenue cost ratio (R/C Ratio).
References
Damayanti, L. 2021. Salted fish mix in Okumel Village, Liang District, Banggai Islands Regency. Agrotekbis: E-Journal of Agricultural Sciences, 9(1), 48-58.
Dumasari, D. 2009. Marketing Analysis of Kerting Red Chili (Capsicum Annum) in Gembong Village, Belik District, Pemalang Regency. Agritech: Journal of the Faculty of Agriculture, University of Muhammadiyah Purwekerto, 11(2).
Hidayatullah, A. R. 2016. Corn Marketing Study in Tulungagung Regency (Doctoral Dissertation, University Of Muhammadiyah Malang).
Prasetya, M. E. 2014. The Effect of Mutiara NPK Fertilizer and Cow Manure. on the growth and yield of the Arimbi variety Curly Red Chili (Capsicum Annuum L.). Agrifor: Journal of Agriculture and Forestry Sciences, 13(2), 191-198.
Putriana, D. D. 2021. Marketing Strategy in an effort to deal with the Covid -19 Pandemic from the perspective of Syahariah Marketing (Study of the Syari Armina House, Bengkulu City).
Wibowo, A.S. 2018. Red Chili Agribusiness development strategy in the Agropolitan area of Serang district. Integrated Agribusiness Journal, 11(2), 141-151.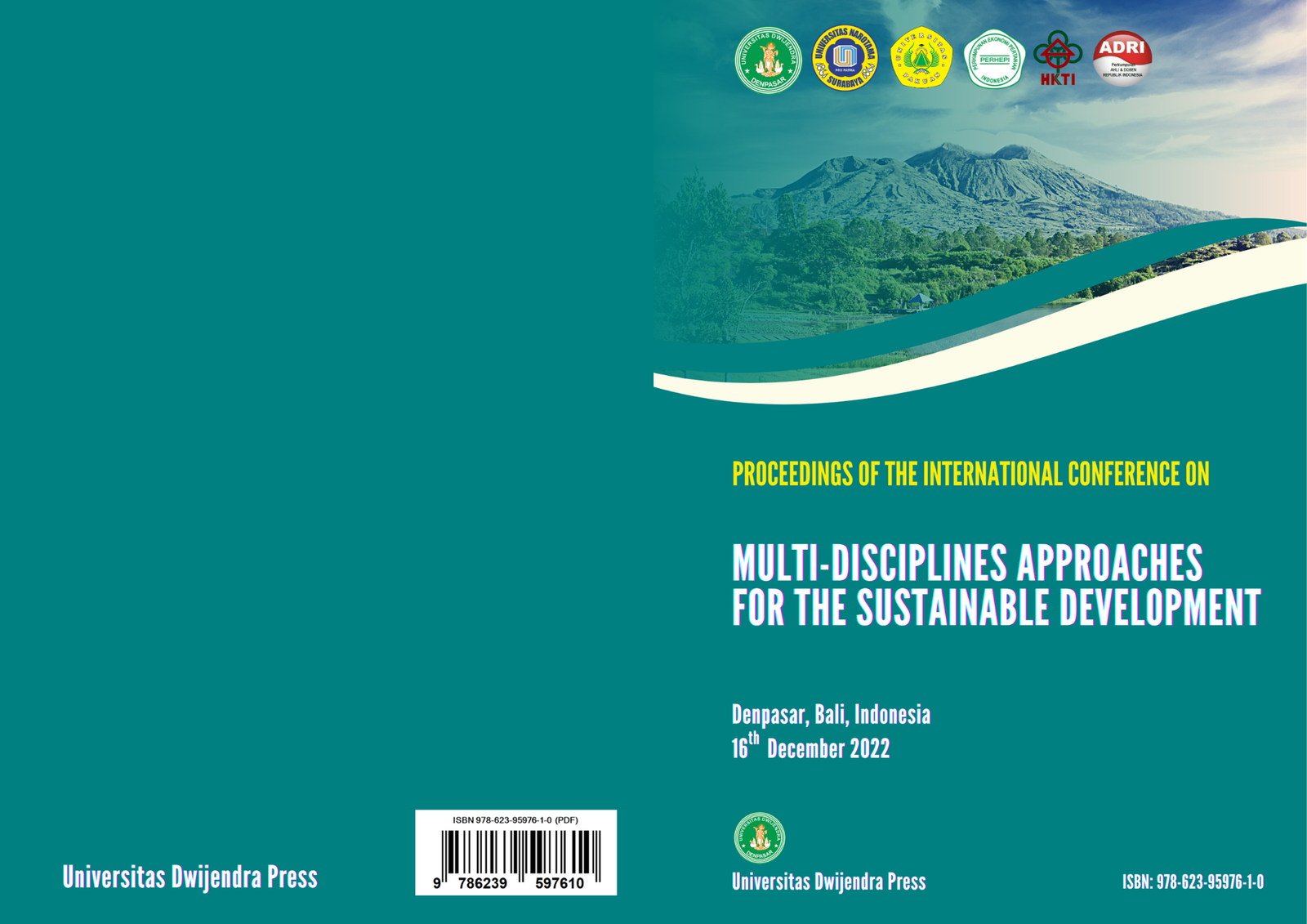 How to Cite
Ni Nengah Putri Adnyani, & Agustinus Lende. (2023). SYSTEM ANALYSIS AND MARKETING EFFICIENCY OF CURLY RED CHILI IN PENEBEL VILLAGE, BATURITI DISTRICT, TABANAN REGENCY. Proceedings of The International Conference on Multi-Disciplines Approaches for The Sustainable Development, 459-465. Retrieved from https://eproceeding.undwi.ac.id/index.php/mdasd/article/view/313