FROM MICRO TO GLOBAL LEVELS: LESSON FROM PHILOSOPHY OF SUBAK
Gede Sedana

Dwijendra University
Keywords:
Subak, Tri Hita Karana, rice farming, global issue
Abstract
Presently, agricultural sector has still played a significant  role in the economic development within developing countries, including Indonesia. It has undergone a transformation to agribusiness system consisting of commercial and modern agriculture. In Bali, the growth of economic development as a result of tourism growth has given rise to several problems in subak. The objectives of this study are to describe the subak system pertaining to its roles to the economic development, and to describe transfer of local wisdom of subak to global system for achieving the sustainable development goals.
At the micro scale, subak as a system should be regarded as a model to support economic growth within rural and urban areas. It might not be only seen as an organization having irrigation and rice farming activities but should be understood its multi-functions. Rice farming activities has contributed to provide rice production at the rural, district and provincial levels which is very important to the food security program achievement.
Tri hita karana which is a local philosophy of subak has universal values, which can be transferred at the national and global levels. As a local wisdom, the values of tri hita karana are in common with the principles of sustainable development which pay attention to economic, socio-cultural, and environmental aspects. Therefore, subak as one of the social capitals can also be an important and valuable lesson to be developed and adapted to various regions, including in other countries. The government of Indonesia should consider Tri hita karana as a platform in discussing various global issues, such as climate change management and poverty.
References
Anggana, I P. S., I G. Mudana, Ni N. Triyuni, Ni M. R. Sukmawati. 2022. Tri Hita Karana as a form of pro-environmental behavior in Bindu Traditional Village. International Journal of Green Tourism Research and Applications Volume 4 Issue 1 Year 2022: 30-37.
Khorami, A.R. and S. Pierof. 2013. The Role of Agriculture in Iran's Economic Development. Research Journal of Applied Sciences, Engineering and Technology 6(11): 1928-1939.
Gollin, D., S. Parente, and R. Rogerson, 2002. The Role of Agriculture in Development. American Economic Review 92 (1): 160-164.
Olsson, O. and D.A. Hibbs, 2005. Biogeography and Long-Run Economic Development. European Economic Review, 49 (4): 909-938.
Wade, R.H. 2004. 'Is Globalization Reducing Poverty and Inequality?', International Journal of Health Sciences 34(3), 381-414.
Pitana, I.G (2010). The Hita Karana, The Local Wisdom of the Balinese in Managing Development, in R. Conrady & M. Buck (ed). Trends and Issues in Global Tourism Springer, 3, 139-150, Berlin : Verlag Heidelberg
Roth, D. and Sedana, G. 2015. Reframing Tri Hita Karana: From 'Balinese Culture' to Politics. The Asia Pacific Journal of Anthropology Vol.16, Issue 2: 157-175.
Salako, A. Lawrence, and Y. S. Aremu. 2015. Agriculture, Economic Growth And Development Nexus: Var Variance Decomposition Evidence from Nigeria. International Journal of Economics, Commerce and Management United Kingdom, Vol. III, Issue 6: 460-477.
Sedana, G. and I N.D. Astawa, 2019. Establishment of inclusive business on coffee production in Bali province: lesson from the coffee development project in Nusa Tenggara Timur province, Indonesia. Asian Journal of Agriculture and rural Development 9 (1): 111-122
Sedana, G. I G.A.A.Ambarawati, and W. Windia. Strengthening 2014. Social Capital for Agricultural Development: Lessons from Guama, Bali, Indonesia. Asian Journal of Agriculture and Development. Vol.11 No.2:39-50
Sukerada, I. K. (2013). Penerapan Tri Hita Karana terhadap Kawasan Agrowisata Buyan dan Tamblingan di Desa Pancasari, Kecamatan Sukasada, Kabupaten Buleleng. Jurnal Manajemen Agribisnis, Vol. 1, No. 2, 43–52.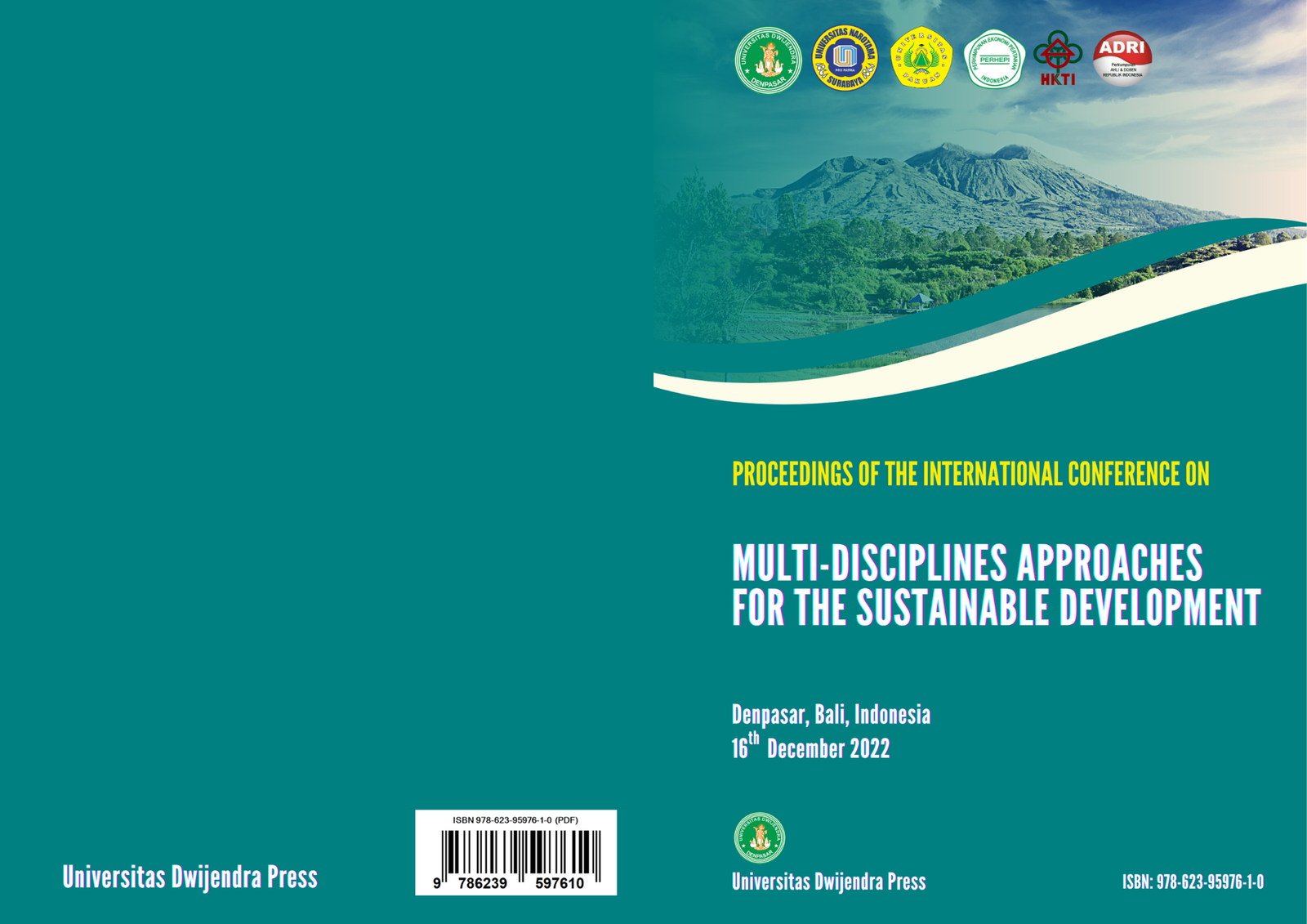 How to Cite
Gede Sedana. (2023). FROM MICRO TO GLOBAL LEVELS: LESSON FROM PHILOSOPHY OF SUBAK. Proceedings of The International Conference on Multi-Disciplines Approaches for The Sustainable Development, 23-30. Retrieved from https://eproceeding.undwi.ac.id/index.php/mdasd/article/view/371
Section
Keynote & Invited Speakers