MANAGEMENT OF PINEAPPLE FARMING BASED ON DEPENDENCE LOGIC IN TANI TUNAS MAKMUR COOPERATIVE AS A SUSTAINABLE DEVELOPMENT EFFORT
Welly Wirman

Universitas Riau

Sumiati

Universitas Riau
Keywords:
Pineapple Farming, Dependency Logic, and Sustainable Development
Abstract
KPI RU II Production of Sungai Pakning has a Community Empowerment-based Peat Village program. This program has one sub-program, namely integrated pineapple farming. The focus of this program is to increase pineapple cultivation which is able to provide high economic value. The integrated pineapple farming program began in 2017 under the name of the Tunas Makmur Farmers Cooperative. The purpose of this program is to analyze the dependency logic-based management of pineapple farming in the Tunas Makmur Farmer Cooperative as a sustainable development effort. This research method uses a descriptive qualitative approach. The location of this research is in Kampung Jawa Hamlet, Sungai Pakning Village, Bukit Batu District, Bengkalis Regency, Riau Province. the technique of informants using purposive and data collection techniques using interviews, observation, and documentation. Data analysis techniques using Miles and Huberman. And the technique of checking the validity of the data uses triangulation and extension of participation. The results of this study are that the management of pineapple farming based on dependency logic can improve sustainable development in agriculture and the environment. This means that the management of pineapple based on this dependency logic can be found in two elements, namely: 1). Community elements consisting of the Tunas Makmur Farmers Cooperative and CSR PT KPI RU II Pakning River Production. 2). The communication element formed is horizontal (sideways) communication. With this formula, it will strengthen the Tunas Makmur Farmers Cooperative in managing pineapples (fresh fruit, derivative products, and pineapple waste).
References
Akuntansi, P. S., Indo, U., & Mandiri, G. (2022). SOSIALISASI PEMBERDAYAAN MASYARAKAT DALAM PEMANFAATAN. 5, 85–89.
Begum, M., Marium, B., Bhattachirjee Pia, M., & Begum, A. (2022). Determinants of Post-harvest Losses of Pineapple: A Farm-level Study in Moulvibazar District, Bangladesh. South Asian Journal of Social Studies and Economics, March, 40–51. https://doi.org/10.9734/sajsse/2022/v13i330360
Daud, A., Taasim, S. I., & Rosli, A. (2021). An Idea for Compensating Local Farmers for a Sustainable Method of Pineapple Farming. International Journal of Academic Research in Business and Social Sciences, 11(17). https://doi.org/10.6007/IJARBSS/v11-i17/11405
Ezaki, A. P. L., Vargas, D., Vallejo, C. A., Rafael, P., Hail, P., & Dollente, J. (2022). Role Of Queen Pineapple Farmers ' Cooperative In Addressing Gender-Divide Needs In The Philippines Rural Communities Amidst Pandemic ( COVID-19 ). 6(8), 2386–2415.
Fathurohman, F., Baharta, R., Purwasih, R., Rahayu, W. E., Mukminah, N., Sobari, E., & Destiana, I. D. (2020). Peningkatan Kesejahteraan Masyarakat Melalui Peningkatan Nilai Produk Di Kabupaten Subang. Sakai Sambayan Jurnal Pengabdian Kepada Masyarakat, 4(2), 80. https://doi.org/10.23960/jss.v4i2.155
Geertz, C. (1974). The Interpretation of Culture Terjemahan. Yayasan Kanisius.
Ikwan, I., Sianturi, M., & Siagian, E. R. (2022). Meningkatkan Kemampuan Komunikasi Horizontal Melalui Media Virtual Pada Masa Pandemi Covid-19 Guru Mas Nurul Hadina Patumbak II. Jurnal ABDIMAS Budi Darma, 2(2), 132. https://doi.org/10.30865/pengabdian.v2i2.3837
Jannah Dan Zulkarnaini, M., & Publika, /. (2021). Kapasitas Kelembagaan dalam Pengembangan Arboretum Gambut Sungai Pakning Kabupaten Bengkalis. Jiap, 7(2), 191. https://doi.org/10.25299/jiap.2021.vol7(2).7469
Kelompok, P., Barokah, T., & Pada, K. J. (2022). PROGRAM CORPORATE FARMING PARTICIPATION OF BAROKAH FARMER GROUP , JETIS DISTRICT ON. 24(2), 631–642.
Kurniawan, A. C., Gustiawan, A., Syah, D. nahrudin, & Safitri, K. I. (2022). Community Based Environmental Management dalam Bingkai Pemberdayaan Petani Nanas. Prospect: Jurnal Pemberdayaan Masyarakat, 1(3), 144–155. https://doi.org/10.55381/jpm.v1i3.52
Mashyuni, I. A. (2022). Pengaruh Komunikasi Vertikal Komunikasi Horizontal dan Komunikasi Diagonal terhadap Semangat Kerja Karyawan. 2(2), 357–365.
Puja Pangestu, F., Shelvia Rahmadianti, N., Tanzila Hardiyanti, N., & Yusida, E. (2021). Ekonomi Pancasila Sebagai Pedoman Dalam Tujuan Pembangunan Berkelanjutan SDGs (Sustainable Development Goals) 2030. Prosiding Seminar Nasional Ekonomi Pembangunan, 1(3), 210–219. www.globalgoals.org
Purwasito, A. (2015). KOMUNIKASI MULTIKULTURAL (R. Widada, Ed.; 1st ed.). Pustaka Pelajar.
Rasyid, A. (2019). Masyarakat, Komunikasi CSR dalam Pemberdayaan. Taman Karya.
Responsibility, S. (2022). COMMUNITY EMPOWERMENT DALAM PENGELOLAAN. 313–320.
Runa, I. (2012). Pembangunan Berkelanjutan Berdasarkan Konsep Tri Hita Karana untuk Kegiatan Ekowisata. Jurnal Kajian Bali (Journal of Bali Studies), 2(1), 149–162.
Shidiq, A. A., Siregar, P., Avriya, V., & Astrie, D. (2022). Pemanfaatan Limbah Kulit Nanas sebagai Bahan Pembuatan Paper Soap untuk Meningkatkan Perekonomian Masyarakat Desa Kualu Nenas. 6(2), 117–122.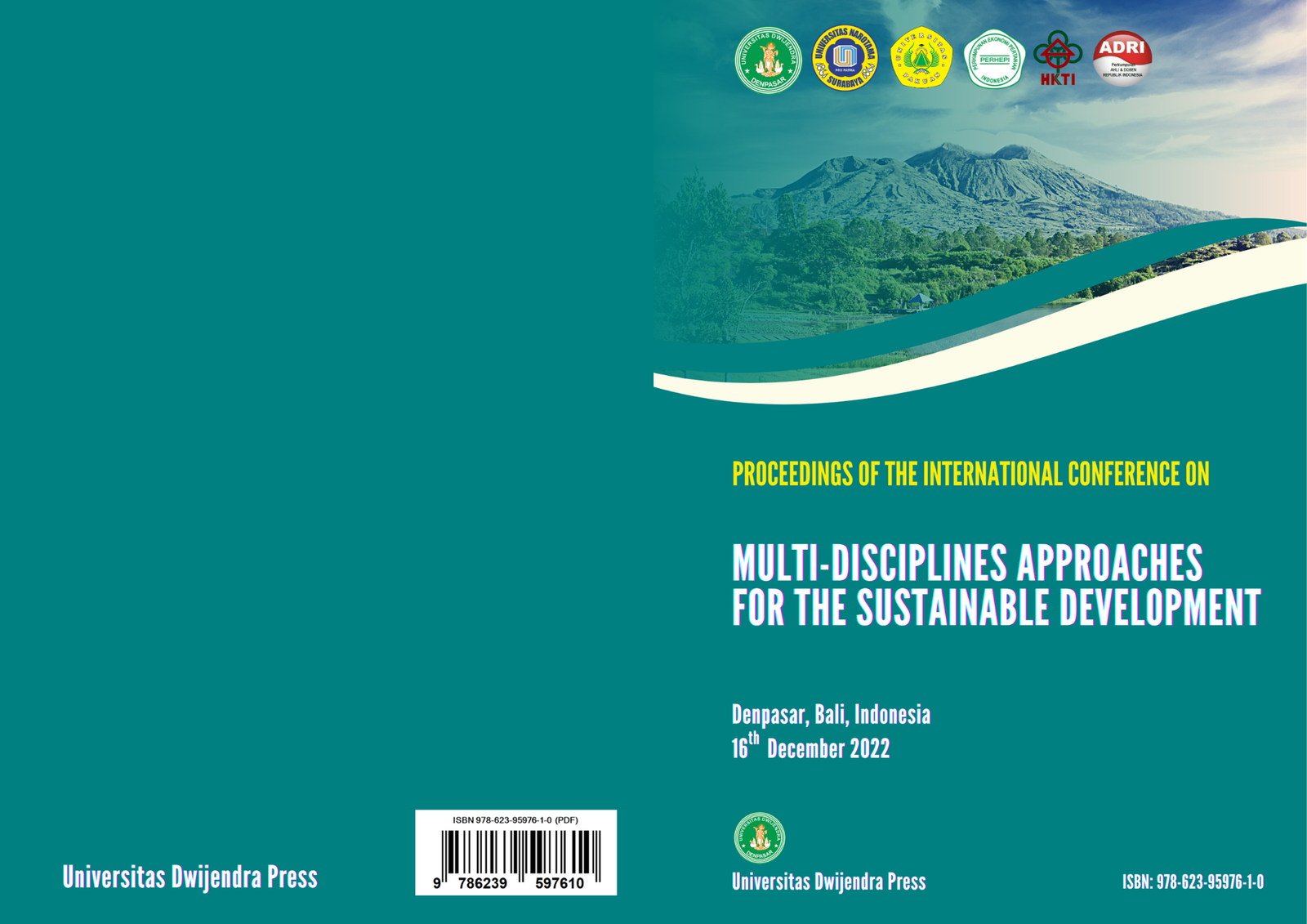 How to Cite
Welly Wirman, & Sumiati. (2023). MANAGEMENT OF PINEAPPLE FARMING BASED ON DEPENDENCE LOGIC IN TANI TUNAS MAKMUR COOPERATIVE AS A SUSTAINABLE DEVELOPMENT EFFORT. Proceedings of The International Conference on Multi-Disciplines Approaches for The Sustainable Development, 663-670. Retrieved from https://eproceeding.undwi.ac.id/index.php/mdasd/article/view/349