PRINCIPAL'S PERFORMANCE AND SERVANT LEADERSHIP AT DEMPASAR NATIONAL TECHOLOGY VOCATIONAL SCHOOL
PRINCIPAL'S PERFORMANCE AND SERVANT LEADERSHIP AT DEMPASAR NATIONAL TECHOLOGY VOCATIONAL SCHOOL
Ni Wayan Parwati Asih

Ilmu Pendidikan, SMK Teknologi Nasional, Denpasar
Keywords:
Principal's Performanc, Leadership, Vocational School
Abstract
SMK Teknologi Nasional Denpasar is the only business and technology-based schools in Denpasar. In order to actualize the Vision and Mission of the SMK Teknologi Nasional Denpasar as a vocational school which preparing a competent workforce, leaders who can provide services becomes primary demand. This study aimed at determining the implementation of servant leadership principal at the SMK Teknologi Nasional Denpasar. The data in this study were collected throughout literature study and direct observation. The data analysis technique was carried out by reducing, presenting data and drawing conclusions. The implementation of the servant leadership of the principal at the SMK Teknologi Nasional Denpasar has been carried out, but was several problems remain occurred. It was happened because the principal had to teach with tight schedule, so that he had not been able to optimally carry out his duties as a principal, in carrying out the leadership of the are always try to serve well, be sincere, humble, persuasive, embrace subordinates, empower other parties, so that school goals can be achieved. Those services were provided to teachers, employees, students and the community.serviceable principal of the SMK Teknologi Nasional Denpasar. The main principle to implement leadership of serviceable.
References
Apriliana, E.R, Kristiawan, M. & Hafulyon. 2017. Kepemimpinan Kepala Madrasah dalam Mewujudkan Pembelajaran Efektif di Madrasah Ibtidaiyyah rahmat El Yunusiyyah Puteri padang Panjang. Elementary Islamic Teacher Journal, 4(1).

Depdiknas .2003. Undang-undang RI No.20 tahun 2003. Tentang Sistem Pendidikan Nasional.

Imansyah, M, Arafat, Y. & Wardiah, D. 2020. Pengaruh Kepemimpinan Kepala Sekolah Dan Partisispasi Komite Sekolah terhadap Kinerja Guru. Jurnal Managemen Kepemimpinan dan Supervisi Pendidikan. Vol 5. No 2.

Iswanto, Y. 2017. Kepemimpinan Pelayan era Modern. Jurnal Administrasi Kantor. Volume 2, No.5.

Laksmi, N.L.P.S, Agung, A.A.G. & Sudirman. 2019. Hubungan Kepemimpinan Pelayan Kompetensi Managerial kepala Sekolah dan Motivasi Kerja dengan Kinerja Guru di Gugus PAUD Tunjung Kecamatan Denpasar Utara. Jurnal Administrasi Pendidikan Indonesia. Vol 10, No. 2.

Muizu, W.O.Z.N, Kaltum, U. & Sule, E.T. 2019. Pengaruh Kepemimpinan Terhadap Kinerja Karyawan. Jurnal Pendidikan Kewirausaahaan Indonesia. Volume 2, No.1.

Muspawi, M. 2020. Strategi Menjadi Kepala Sekolah Profesional. Jurnal Ilmiah Universitas Batanghari jambi. 20 (2) 402- 409.

Mustapa, Z. & Maryadi. 2018. Kepemimpinan Pelayan Dimensi Baru dalam Kepemimpinan. Makasar: Celebes Media Perkasa.

Permendikbud. 2018. Peraturan Menteri Kebudayaan Republik Indonesia No. 6 Tahun 2018. Tentang Penugasan Guru sebagai Kepala Sekolah.

Permendiknas. 2007. Peraturan Menteri Pendidikan Nasional Republik Indonesia No. 13 Tahun 2007. Tentang Standar Kepala Sekolah/ Madrasah.

Usman, H. 2020. Kepemimpinan Efektif. Yogyakarta: Bumi Aksara

Nasution, L. & Ichsan, R.N. 2020. Gaya Kepemimpinan Kepala sekolah Terhadap Kinerja Guru. Jurnal Penelitian Pendidikan Sosial Humaniora. Volume 5, No. 2.

Wijania, I.W. 2017. Kontribusi Kepemimpinan Pelayan Kepala Sekolah Motivasi Kerja dan Disiplin Kerja terhadap Kinerja Guru. Jurnal Ilmiah Pendidikan dan Pembelajaran PPS Universitas Pendidikan Ganesha. Volume 1, No.3.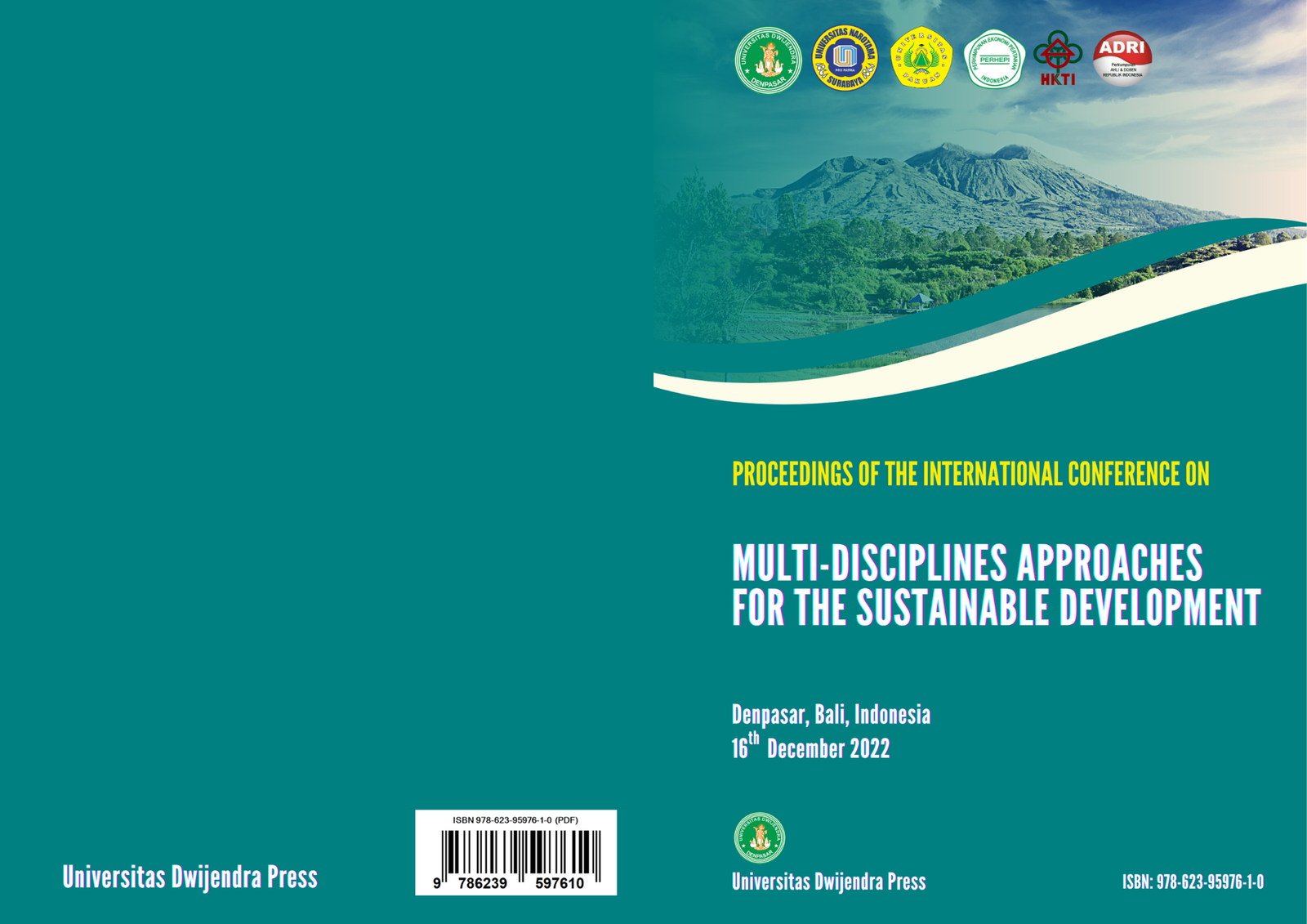 How to Cite
Ni Wayan Parwati Asih. (2023). PRINCIPAL'S PERFORMANCE AND SERVANT LEADERSHIP AT DEMPASAR NATIONAL TECHOLOGY VOCATIONAL SCHOOL . Proceedings of The International Conference on Multi-Disciplines Approaches for The Sustainable Development, 612-619. Retrieved from https://eproceeding.undwi.ac.id/index.php/mdasd/article/view/340