STRENGTHENING THE VALUES OF TRI KAYA PARISUDHA IN SHAPING THE PROFILE OF PANCASILA STUDENTS
STRENGTHENING THE VALUES OF TRI KAYA PARISUDHA IN SHAPING THE PROFILE OF PANCASILA STUDENTS
I Wayan Eka Santika

Universitas Dwijendra

Delvita Putri Lero

Universitas Dwijendra
Keywords:
: the values of Tri Kaya Parisudha, Pancasila student profile
Abstract
Education is not only to shape students to be intelligent but must be balanced with a good personality (good behavior) in accordance with what is mandated by Law no. 20 of 2003 concerning the national education system. Therefore the output of our education results is a balance between knowledge, skills and attitudes. This balance refers to the formation of a national character that is in accordance with Pancasila values. Character education must be the basis for realizing a complete Indonesian human being with indicators of being an intelligent citizen but also virtuous, moral and Indonesian-minded. Policy on education, culture, research and technology regarding the implementation of an independent curriculum, stipulates how education must integrate existing local values, of course, in helping to realize character education and the profile of Pancasila. Strengthening national character can be done by embedding and re-emphasizing how to strengthen the actualization of local wisdom values ​​in the world of education and learning in schools. This research was descriptive qualitative with literature studies in an effort to provide ideas about the importance of Balinese local wisdom values ​​in education to strengthen national character and the profile of Pancasila students. One of the universal local wisdoms that can be used as a basis for character education is Tri Kaya Parisudha (thinking, saying, and doing what is good and right). By strengthening the values ​​of Tri Kaya Parisudha at various levels of education, it is hoped that they will be able to form smart citizens and good citizenship who do not give up the values ​​of Balinese society and are in accordance with the Pancasila student profile.
References
Adnyana,P.B. & Desak Made Citrawathi, 2017.model Pendidikan karakter berbasis Tri kaya parisudha terintegrasi dalam pembelajaran di sekolah dasar. Seminar nsional riset inovatif. Tersedia http://digilib.mercubuana.ac.id/manager/t!@file_artikel_abstrak/Isi_Artikel_405196786144.pdf diakses tangga 29 Nopember 2022
Aryana, P. I.B. 2014. Peranan Budaya Bali dalam Mengembangkan Pendidikan Karakter Di sekolah. Prosiding Seminar Nasional FMIPA UNDIKSHA IV. https://ejournal.undiksha.ac.id
Badan standar, kurikulum dan asesemen Pendidikan kementerian Pendidikan , kebudayaan, riset, dan teknologi republik Indonesia. 2022. Dimensi, elemen dan subelemen Profil pelajar Pancasila pada kurikulum merdeka.
Berkowitz, M.W. & Bier, M.C. 2005. What Works In CharacterEducation: A Research-Driven Guide for Educators, Washington DC: Univesity of Missouri-St Louis.
Lichona, T. 1991. Educating for Character (Mendidik untuk Membentuk Karakter): Bagaimana Sekolah Dapat Memberikan Pendidikan tentang Sikap Hormat dan Tanggung Jawab. Terjemahan Juma Abdu Wamaungo, 2012. Jakarta: Bumi Aksara.
Lickona,Thomas. 2013. Pendidikan karakter. Panduan lengkap mendidik siswa menjadi pintar dan baik. Bandung: Nusa Media
Lodra, I W. 2006. "Trikaya Parisudha dalam Segala Aspek Kehidupan. WHD, 465: 26 – 29
Purana. I Made. & Ida Ayu Putu Sri Mas Sunariyanti. 2022. Polemik Idiologi Dalam Bali Adnyana dan Surya kanta: Persepektif kajian budaya. jurnal Pendidikan dan konseling. 4.(5). Tersedia pada https://journal.universitaspahlawan.ac.id/index.php/jpdk/article/view/7389. Diakses tanggal 22Nopember 2022
Santika, I.W.E. 2022. Penguatan Nilai-nilai kearifan Lokal Bali dalam membentuk Profil Pelajar Pancasila. jurnal Pendidikan dan konseling. 4.(4). Tersedia pada https://doi.org/10.31004/jpdk.v4i4.6472. Diakses tanggal 22 Nopember 2022
Santika, I.W.E. & I Putu Yudi Sudarmawan. 2022. Jurnal Pendidikan dan konseling. 4 (1). https://doi.org/10.31004/jpdk.v4i1.3747
Somantri, M.N. 2001. Menggagas Pembaharuan Pendidikan IPS. Bandung: PT.
Suhardana, K.M. 2007. Tri Kaya Parisudha: Bahan Kajian untuk Berpikir Baik, Berkata Baik, dan Berbuat Baik. Surabaya: Paramita
Sunarya I.K. 2012. Pendidiakn Seni Berkarakter Budaya Adiluhung Estafet Generasi Kreatif yang Berkelanjutan. Jurnal Pendidikan Karakter. 2(2) hal 179-188.
Undang-Undang Republik Indonesia Nomor 20 Tahun 2003 Tentang Sistem Pendidikan Nasional
Wagiran 2012. Pengembangan Karakter Berbasis Kearifan Lokal Humemayu Hayuning Bawana (Identifikasi Nilainilai Karakter Berbasis Budaya). Jurnal Pendidikan Karakter. 3(3) hal 329-339.
Wahab, A. A. 2001. Rekonstruksi kurikulum PMPKN. Jurnal civicus (1). Bandung. Jurusan PMPKN.UPI
Wahab, A. A. dan Sapriya. 2011. Teori dan Landasan Pendidikan Kewraganegaraan. Bandung: ALFABETA.
Winataputra, U. S. 2001. Jati Diri Pendidikan Kewarganegaraan Sebagai Wahana Sistemik Pendidikan Demokrasi (Suatu Kajian Konseptual dalam Konteks Pendidikan IPS). Disertasi. Bandung: Universitas Pendidikan Indonesia.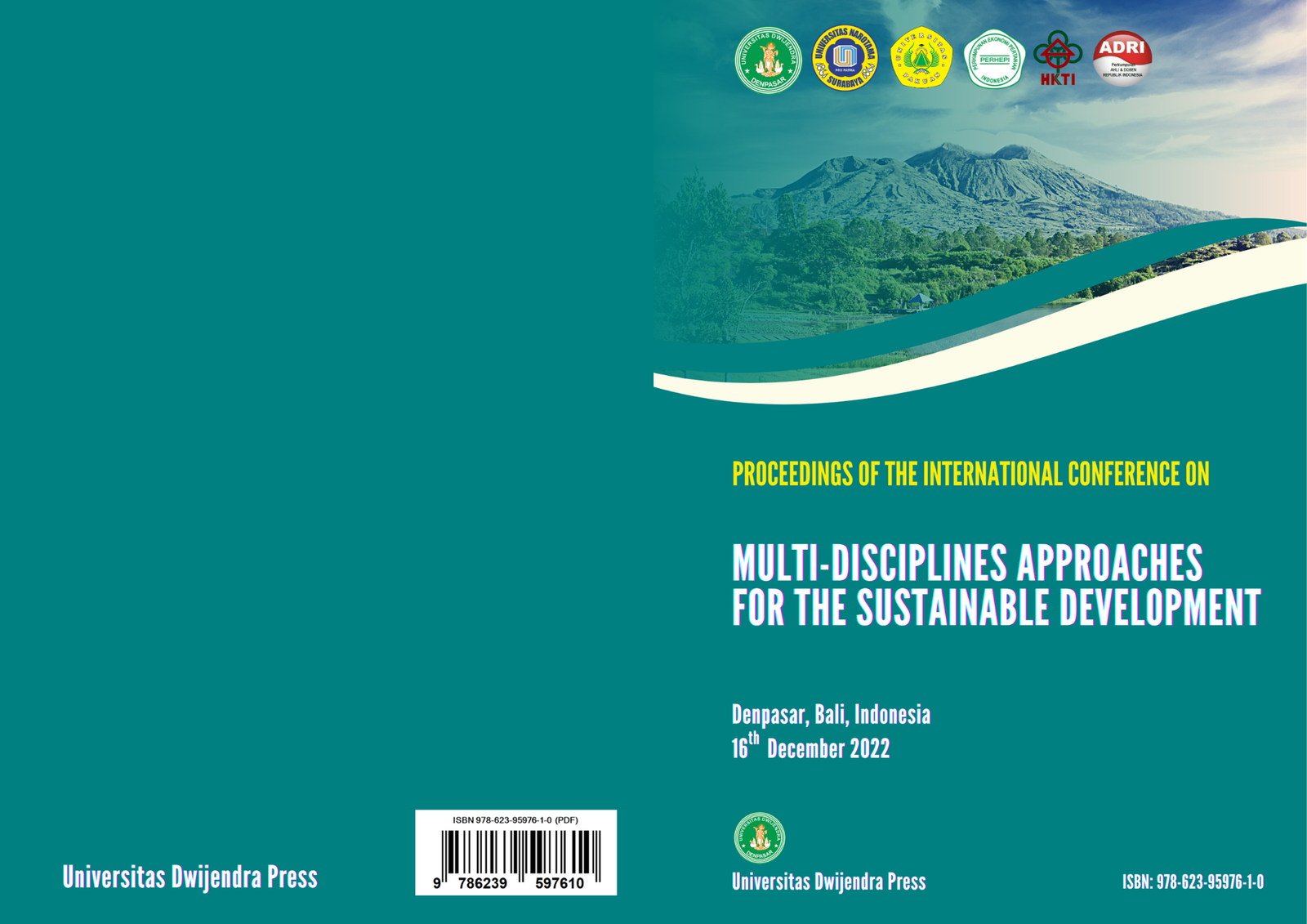 How to Cite
I Wayan Eka Santika, & Delvita Putri Lero. (2023). STRENGTHENING THE VALUES OF TRI KAYA PARISUDHA IN SHAPING THE PROFILE OF PANCASILA STUDENTS. Proceedings of The International Conference on Multi-Disciplines Approaches for The Sustainable Development, 588-593. Retrieved from https://eproceeding.undwi.ac.id/index.php/mdasd/article/view/337