ANALYSIS OF THE INCOME OF FREE-RANGE CHICKENS IN BANJAR, THE OFFICE OF THE SHRINKING VILLAGE IN THE SHRINKAGE DISTRICT OF BANGLI REGENCY
Ni Nengah Yastini

Agribusiness Study Program, Faculty of Agriculture and Business, Dwijendra University
Keywords:
analysis, income, native chicken
Abstract
The objectives of this study were: (1) To determine the income of domesticated chicken farmers in Banjar, the Management Office of Susut Village, Susut District, Bangli Regency; (2) to determine the R/C ratio in domestic chicken farming in Banjar, the Department of Structuring the Shrinking Village, Susut District, Bangli Regency. This research was conducted in the livestock group of Giri Arta Banjar, the Department of Arrangement of the Susut Village, Susut District, Bangli Regency. Determination of the research location is done by "purposive sampling" method. The total number of livestock farmers is 21 people. All of them were taken as respondents using the census method. The types of data collected are primary data and secondary data. Analysis of the data used is farming analysis. The results showed that the total cost incurred for domestic chicken farming was Rp. 1,495.000,00. Total Revenue of Rp. 4,000,000,00. Domestic chicken farming income is Rp. 2,505,000.00, in one production process. The result of the comparison calculation between Total Revenue and Total Cost (R/C ratio ) is 2.67. This means that the domestic chicken farm developed by the Giri Arta domestic chicken farmer group in Banjar, the Penatahan Service, Susut Village, Susust District, Bangli Regency provides benefits.
References
Cahyono, B. 1994. Usaha Ayam Peternak Ayam Buras Petelur. Analisis Usaha Beternak Ayam Kampung Petelur. C.V. Aneka. Solo.
Hermanto, F. 1987. Ilmu Usahatani. Penebar Swadaya : Jakarta.
Nitis, I.M. 1980 . Makanan Ternak Salah Satu Sarana untuk Meningkatkan Produksi Ternak. Pidato Pengukuhan Guru besar dalam Ilmu Makanan ternak Universitas Udayana.
Rasyaf, M. 1991. Memelihara Ayam Buras. Cetakan ketiga. Penerbit Kanisius : Yogyakarta.
Soekartawi. 1987. Prinsip Dasar Ekonomi Pertanian. Jakarta: Rajawali Pers
Soekartawi. 1995. Analisis Usahatani. Jakarta. : Universitas Indonesia.
Soekartawi. 2001. Gribisnis teori dan Aplikasinya. Jakarta : P.T. Raja Rafindo Persada.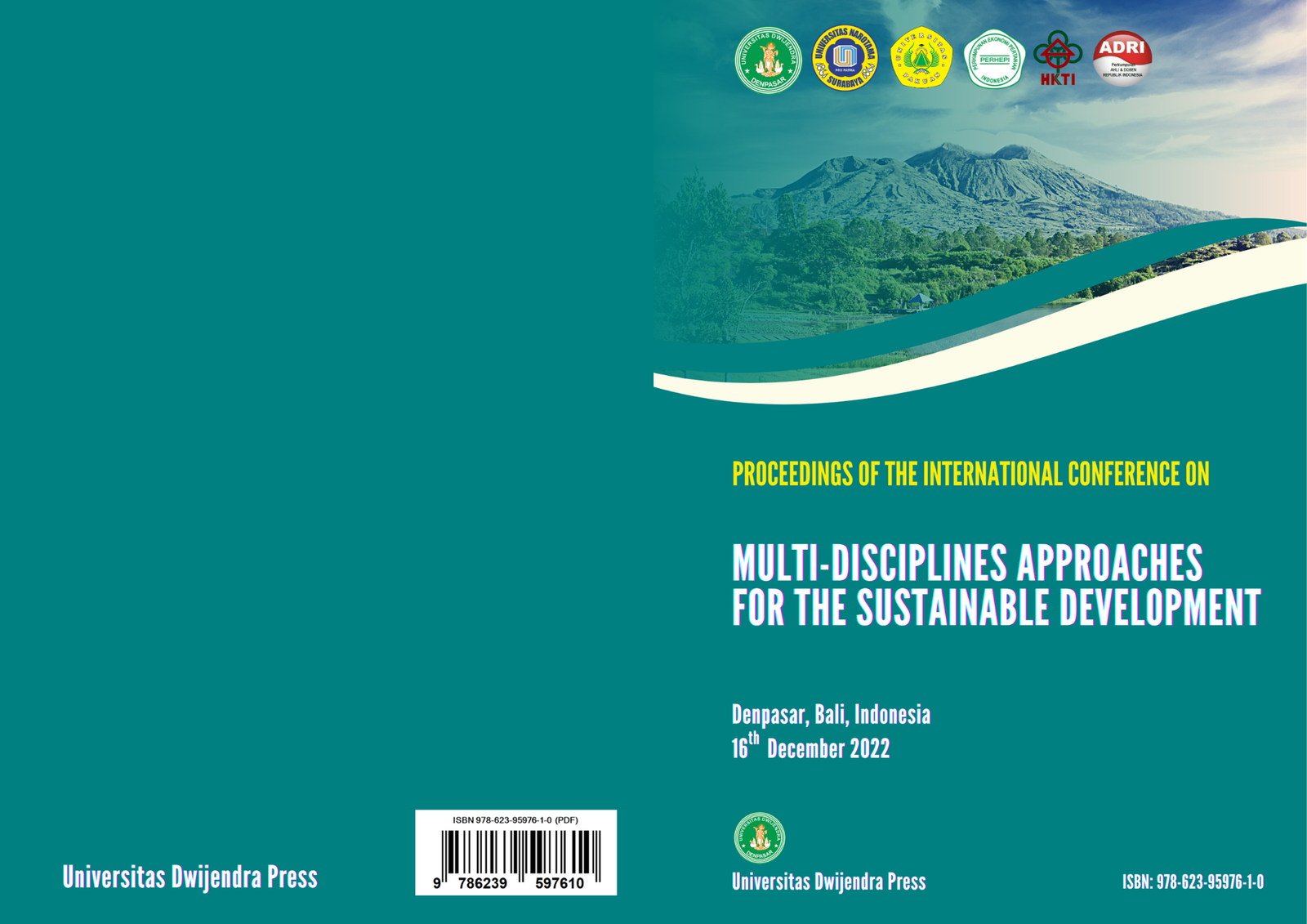 How to Cite
Ni Nengah Yastini. (2023). ANALYSIS OF THE INCOME OF FREE-RANGE CHICKENS IN BANJAR, THE OFFICE OF THE SHRINKING VILLAGE IN THE SHRINKAGE DISTRICT OF BANGLI REGENCY. Proceedings of The International Conference on Multi-Disciplines Approaches for The Sustainable Development, 527-531. Retrieved from https://eproceeding.undwi.ac.id/index.php/mdasd/article/view/326