JURIDICAL REVIEW ARTICLE 27 Paragraph (3) of Law No. 19 of 2016 CONCERNING INFORMATION AND ELECTRONIC TRANSACTIONS AGAINST DEFAMATORS IN SOCIAL MEDIA
Agus Surya Manika

Faculty of Law, Dwijendra University
Keywords:
perpetrator, defamation, social media
Abstract
Defamation in social media is regulated in Article 27 Paragraph (3) of Law No. 19 of 2016 concerning Information and Electronic Transactions. Article 27 Paragraph (3) has a vague meaning because of its multi-interpretational nature so that it does not provide legal certainty for perpetrators of defamation in social media. against the accusers of defamation.
This legal research uses a juridical normative method. The approach used is a statutory approach, a case approach, a conceptual and comparative approach. The sources of legal material are obtained from laws and regulations, books, articles and journals. For the method of collecting legal materials using literature study. Analysis of legal materials using construction, evaluation, argumentation and systematization methods.
The results of this research are Article 27 Paragraph (3) giving rise to multiple interpretations because there are no clear boundaries regarding defamation, unclear subject matter protected in Article 27 Paragraph (3) and different verdicts. conspicuous judges which indicate Article 27 Paragraph (3) has multiple interpretations. The forms of legal uncertainty in Article 27 Paragraph (3) include: The nature of the article which is multi-interpreted and does not seem ineffective because it is a duplication of Article 310 of the Criminal Code, frequent bureaucratic services that are not good by law enforcers, there are differences in judges' verdicts which indicate different interpretations of judges, as well as causing political commotion and polemics in society.
References
Book:
Asikin, Zainal, 2012, Pengantar Ilmu Hukum,Jakarta:Raja Grafindo Persada, Jakarta
Lubis, Suhrawadi K., 2015, Etika Profesi Hakim, Sinar Grafika, Jakarta
Manan, Bagir, 2005, Sistem Peradilan Berwibawa Suatu Pencarian, Fakultas Hukum UII, Yogyakarta
Suhariyanto, Budi, 2012, Tindak Pidana Teknologi Informasi (cybercrime) Urgensi Pengaturan dan Celah Hukumnya, Rajagrafindo Persada, Depok
Journal:
Indradewi, A.A.S.N, (2020). PENEGAKAN HUKUM TERHADAP PELAKU USAHA AIR MINUM DALAM KEMASAN YANG TIDAK DILENGKAPI IJIN EDAR GUNA MENJAGA KEAMANAN PANGAN. Kerta Dyatmika, 17(1), 1-10. https://doi.org/10.46650/kd.17.1.812.1-10
Satriana, I.M.W.C, & Luh Putu Eka Pramestiani. (2020). KEBIJAKAN FORMULASI PENCEGAHAN TINDAK PIDANA TERORISME DI ERA TEKNOLOGI 4.0. Kerta Dyatmika, 17(2), 12-22. https://doi.org/10.46650/kd.17.2.975.13-24
Satriana, I.M.W.C, (2013), Kebijakan Formulasi Keadilan Restoratif Dalam Sistem Peradilan Pidana Anak, Bandung: Program Studi Ilmu Hukum Program Pascasarjana Universitas Udayana.
Windia, I.K. (2019). TINJAUAN YURIDIS TENTANG PENGHINAAN LAMBANG NEGARA OLEH WARGA NEGARA INDONESIA. Kerta Dyatmika, 16(1), 21-30.
Legislation:
Kitab Undang-Undang Hukum Pidana (KUHP)
Undang-Undang No19 Tahun 2016 Tentang Informasi dan Transaksi Elektronik
Undang-Undang No.39 Tahun 1999 tentang Hak Asasi Manusia.
Internet:
Asosiasi Penyelenggara Jasa Internet Indonesia (APJII), 2018, Jumlah pengguna internet sepanjang 2018, tersedia di https://dailysocial.id/post/pengguna-internet-indonesia-2018, diakses 12 November 2020.
Liputan6, 2014, Bumerang di Jejaring Sosial, tersedia di https://www. liputan6.com/news/read/2101913/bumerang-di-jejaring-sosial, diakses tanggal 12 November 2020.
CNN Indonesia, 2021, Polemik Kritik Jokowi Berujung Desakan Revisi UU ITE, tersedia di https://www.cnnindonesia.com/nasional/20210217062452-32-607130/polemik-kritik-jokowi-berujung-desakan-revisi-uu-ite, diakses tanggal 28 Maret 2021.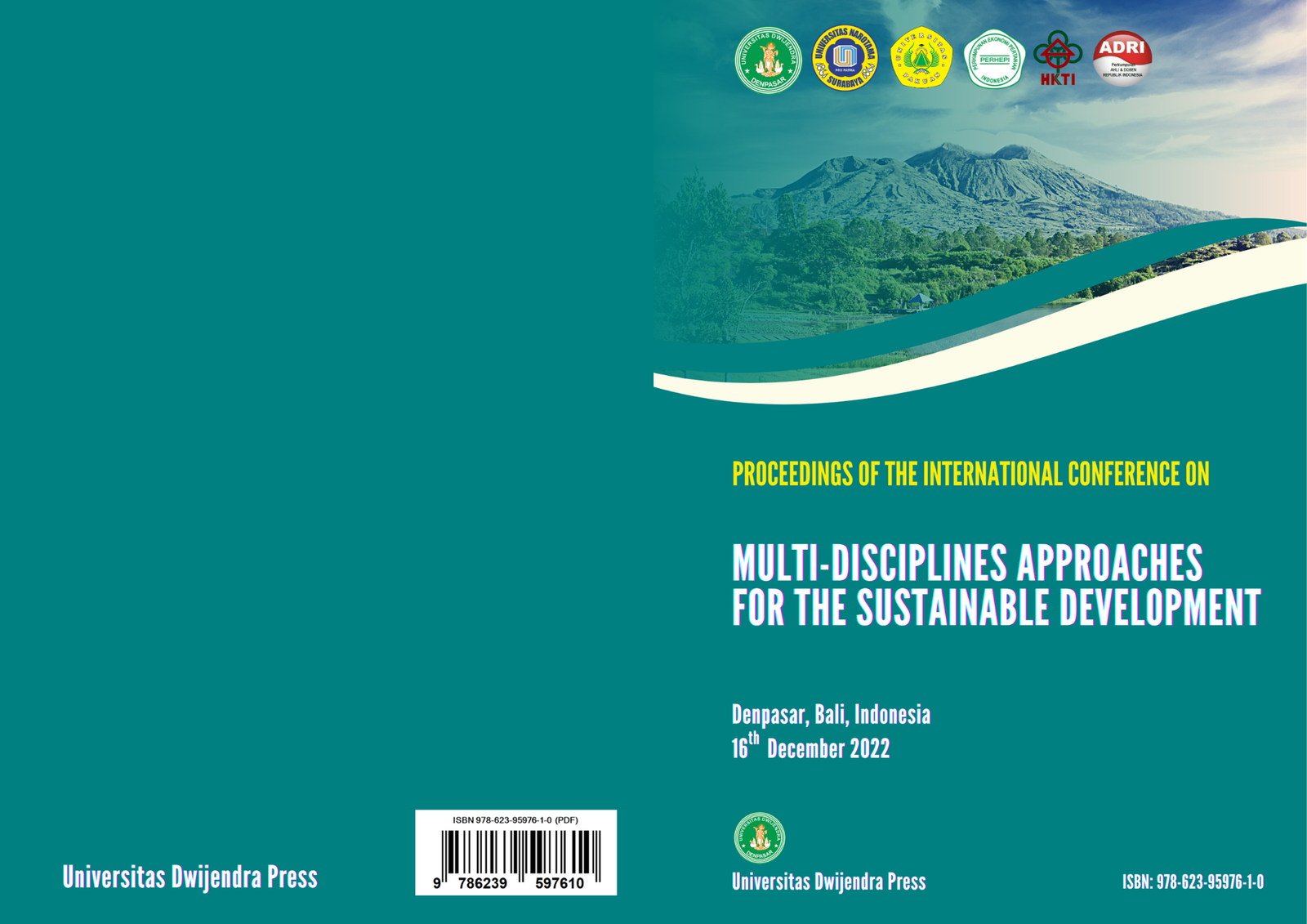 How to Cite
Agus Surya Manika. (2023). JURIDICAL REVIEW ARTICLE 27 Paragraph (3) of Law No. 19 of 2016 CONCERNING INFORMATION AND ELECTRONIC TRANSACTIONS AGAINST DEFAMATORS IN SOCIAL MEDIA. Proceedings of The International Conference on Multi-Disciplines Approaches for The Sustainable Development, 222-227. Retrieved from https://eproceeding.undwi.ac.id/index.php/mdasd/article/view/310