TAT TWAM ASI AS BALINESE LOCAL WISDOM IN THE ERA OF THE COVID-19 PANDEMIC
Ida Bagus Rai

Universitas Dwijendra
Keywords:
Tat Twam Asi, Balinese Local Wisdom, Pandemi Covid-19
Abstract
The Covid-19 pandemic has changed the order of human life in the world. Humans whose social attitudes and practice in their lives have been limited under the pretext of the Covid-19 Virus Pandemic. Of course this will also provide a change in social patterns that are carried out by humans themselves. The order of life is actually a continuation of every civilization possessed by the process of human life. Even though the Covid-19 Pandemic has taken hold of the social side of humanity, it doesn't mean that we just let go, it's not even rare that it will get stronger due to the strong impact of this event on various areas of human life. Tat Twam Asi is an essential civilization to continue to live side by side, get along in harmony, help one another, be harmonious in the multicultural atmosphere that exists in the life of Indonesian society. Tat Twam Asi will become a Balinese local wisdom that is always upheld as a moral system to achieve human moral improvement and is implemented in human personal life, society, nation and state.
References
Atmadja, Ida Bagus Oka Punia. (2007). Upedesa tentang Ajaran-ajaran Agama Hindu. Paramita. Surabaya.
Arta Jaya, Kadek. (2019). Membangun Mutu Pendidikan Karakter Siswa Melalui
Implementasi Ajaran Tri Hita Karana. Jurnal Penjaminan Mutu IHDN Denpasar.
Atmaja, Nengah Bawa,dkk.(2017). Agama Hindu, Pancasila, dan Kearifan Lokal Fondasi Pendidikan Karakter. Denpasar: Pustaka Larasan.
Karmini, Ni Wayan, dkk. (2000). Agama Hindu. Ganeca Exact. Jakarta.
Kartika, I. M., Angga Mahendra, P. R., & Awa, V. (2021). Penerapan Pembelajaran
Problem Based Learning untuk Meningkatkan Ketrampilan Berpikir Kritis Siswa Pada Mata Pelajaran PPKn. Jurnal Locus Delicti, Universitas Pendidikan
Ganesha Singaraja.
Kerta Adi, Made. (2016). Tat Twam Asi : Adaptasi Nilai Kearifan Lokal Dalam Pengentasan Kemiskinan Kultural. Seminar Nasonal Riset Inovatif (SENARI) ke-4
Mahendra, Putu Ronny Angga. (2021). Conception of Local Wisdom Nangun Sad Kerthi Loka Bali in Character Education. SHEs: Conference Series 4 (4), (hal.78-84): Universitas Sebelas Maret Surakarta.
Mahendra, Putu Ronny Angga. (2018). Pembelajaran PPKn dalam Resonansi Kebangsaan dan Globalisasi. Jurnal Ilmiah Ilmu Sosial Vol. 4 No. 2. Universitas Pendidikan Ganesha Singaraja.
Mahendra, Putu Ronny Angga. (2014). Peran Strategis PKn untuk Membangun Karakter bagi Mahasiswa. Jurnal Widya Acarrya Vol. 3 No. 1. Universitas Dwijendra Denpasar.
Mahendra, Putu Ronny Angga. (2020). Memperkuat Kesadaran Bela Negara Dengan Nilai-Nilai Pancasila Dalam Perspektif Kekinian. Jurnal Pendidikan Kewarganegaraan Vol. 8 No. 3 . Singaraja : Universitas Pendidikan Ganesha.
Mahendra, Putu Ronny Angga dan I Made Kartika. (2021). Membangun Karakter Berlandaskan Tri Hita Karana Dalam Perspektif Kehidupan Global. Jurnal Pendidikan Kewarganegaraan Vol. 9 No. 2. Singaraja : Universitas Pendidikan Ganesha.
Suastin, Ni. Nyoman dan I Ketut Budi Rach Suarjaya. (2021). Pemahaman Ajaran Tat Twam Asi Sebagai Pedoman Dalam Upaya Peningkatan Mawas Diri di Era Pandemi Covid-19. Jurnal Penjaminan Mutu. Universitas Hindu Negeri I Gusti Bagus Sugriwa Denpasar.
Sudira, P. (2013). Tri Hita Karana and the Moraliy of Sustainable Vocational Education : Proceeding International Seminar The 8th Asia Pacific Network for Moral Education. Yogyakarta State University, Indonesia.
Wiana, I Ketut. (2002). Bentuk Bhakti Kepada Tuhan. Surabaya : Paramita.
Titib, I Made. (2006). Menumbuhkembangkan Pendidikan Budhi Pekerti Pada Anak (Perspektif Agama Hindu). Denpasar: Pustaka Bali Post.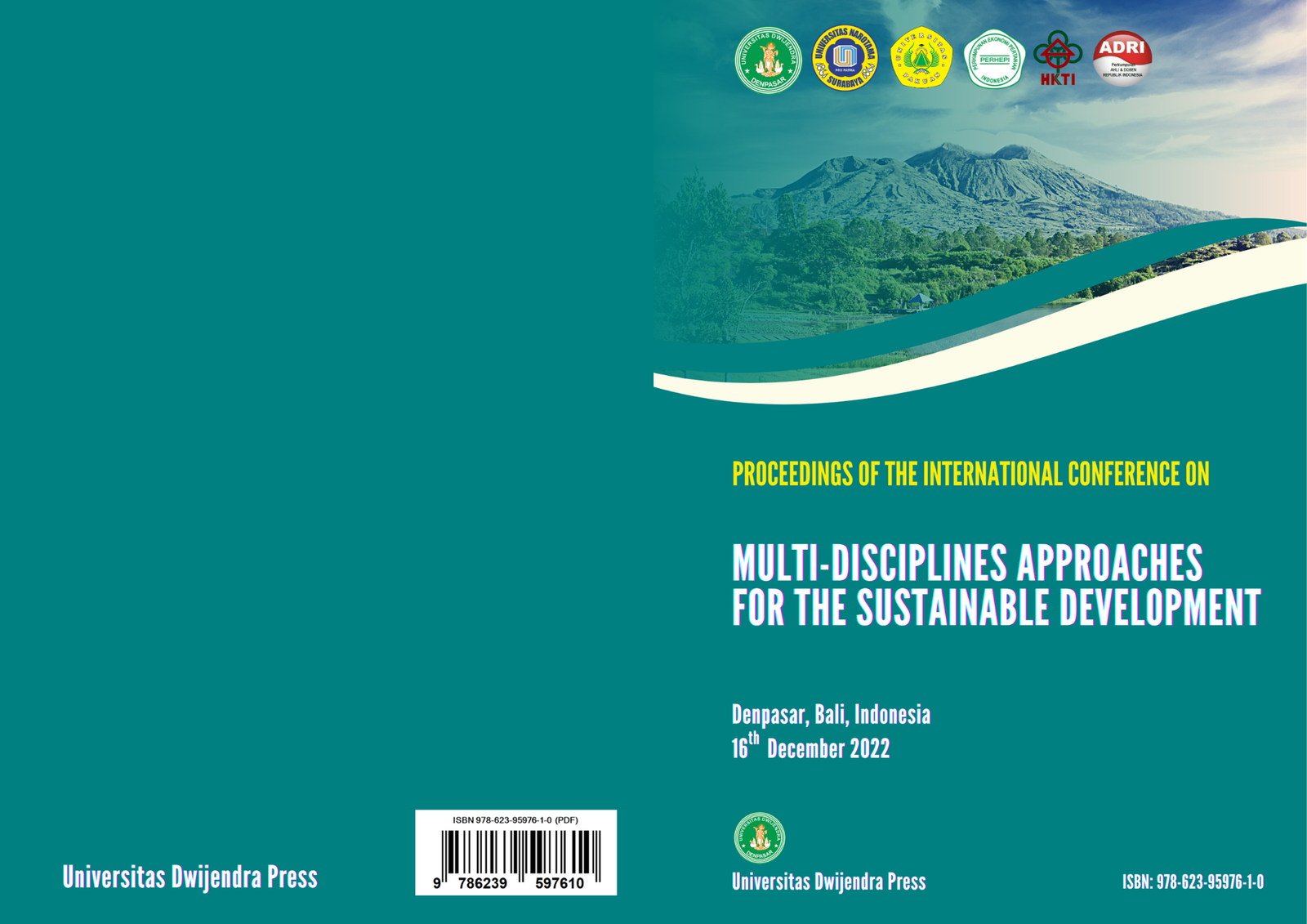 How to Cite
Ida Bagus Rai. (2023). TAT TWAM ASI AS BALINESE LOCAL WISDOM IN THE ERA OF THE COVID-19 PANDEMIC. Proceedings of The International Conference on Multi-Disciplines Approaches for The Sustainable Development, 438-443. Retrieved from https://eproceeding.undwi.ac.id/index.php/mdasd/article/view/297