CONSERVATION OF LANGUAGE, LITERATURE, AND SCRIPT OF BALINESE THROUGH DIGITAL MEDIA
I Putu Ariana

Universitas Dwijendra

Anak Agung Mirah Setia Pertiwi

Universitas Dwijendra
Keywords:
digital, language, literature, a script of Balinese
Abstract
Technology is often seen as the biggest challenge in the conservation language, literature, and script of Balinese. Several studies report concerns that technology is accelerating the erosion of local languages. Currently, people easily communicate across regions, countries, and continents and choose to use languages that are more universal and understandable by a wider audience, such as national languages or foreign languages. However, it cannot be denied that saving regional languages can be started by maximizing the benefits of technology. This paper aims to show the importance of technology and its relation to preserving Balinese language, literature, and script. In the end, we recommend several perspectives on how technology can contribute and become an essential part of the conservation language, literature, and script of Balinese
References
Alwi, Hasan, et all. 2003. Tata bahasa Baku Bahasa Indonesia (Third Edition). Jakarta: Balai Pustaka.
Arikunto, S. 2010. Prosedur Penelitian Suatu Pendekatan Praktik. Jakarta:Rineka Cipta.
Dedik Kurniawan, 2014. Pengertian Online, Jakarta:PT Elext Media Kompetindo. Flew, T. 2008. New Media : an introduction. New York: Oxford University Pers. Galla, A. 2001. Guidebook for the Participation of Young People in Heritage.
Conservation. Brisbane: Hall and Jones Advertising.
Giri, I Made Ariasa. 2017. Pelestarian Bahasa, Aksara, dan Sastra Bali melalui
Pengoptimalan Tripusat Pendidikan.Jurnal Purwadita STAH Mpu Kuturan
Singaraja. Vol. 1.1
McQuail, Denis. 2010. McQuaid's Mass Communication Theory. 5th ed. Sage
Publications: London.
Mestika Zed, Metode Penelitian Kepustakaan, Jakarta: Yayasan Obor Indonesia,
Cet. ke-1, 2004.
Purnami, Ida Ayu Putu. 2021. Pemanfaatan Aplikasi Keyman dalam Pembelajaran
Menulis Aksara Bali. Seminar Bahasa, Sastra, dan Pengajarannya
(PEDALITRA I)
Ryandewi, Anak Agung Istri Ita. 2016. Pelestarian Bahasa Bali Dalam Media Cetak
Berbahasa Bali: Kajian Sosiolinguistik. E-Jurnal Humanis, Fakultas Sastra dan
Budaya Unud Vol 15.2
Sudipa, I Nengah, I Ketut Suar Adnyana, I Putu Ariana & et all. 2022. Paribasa
dalam Wayang Cenk Blonk : Perspektif Ekolinguistik. In Bahasa, Sastra, dan Pembelajarannya.(pp 128-141). Jawa Tengah: Eureka Media Aksara.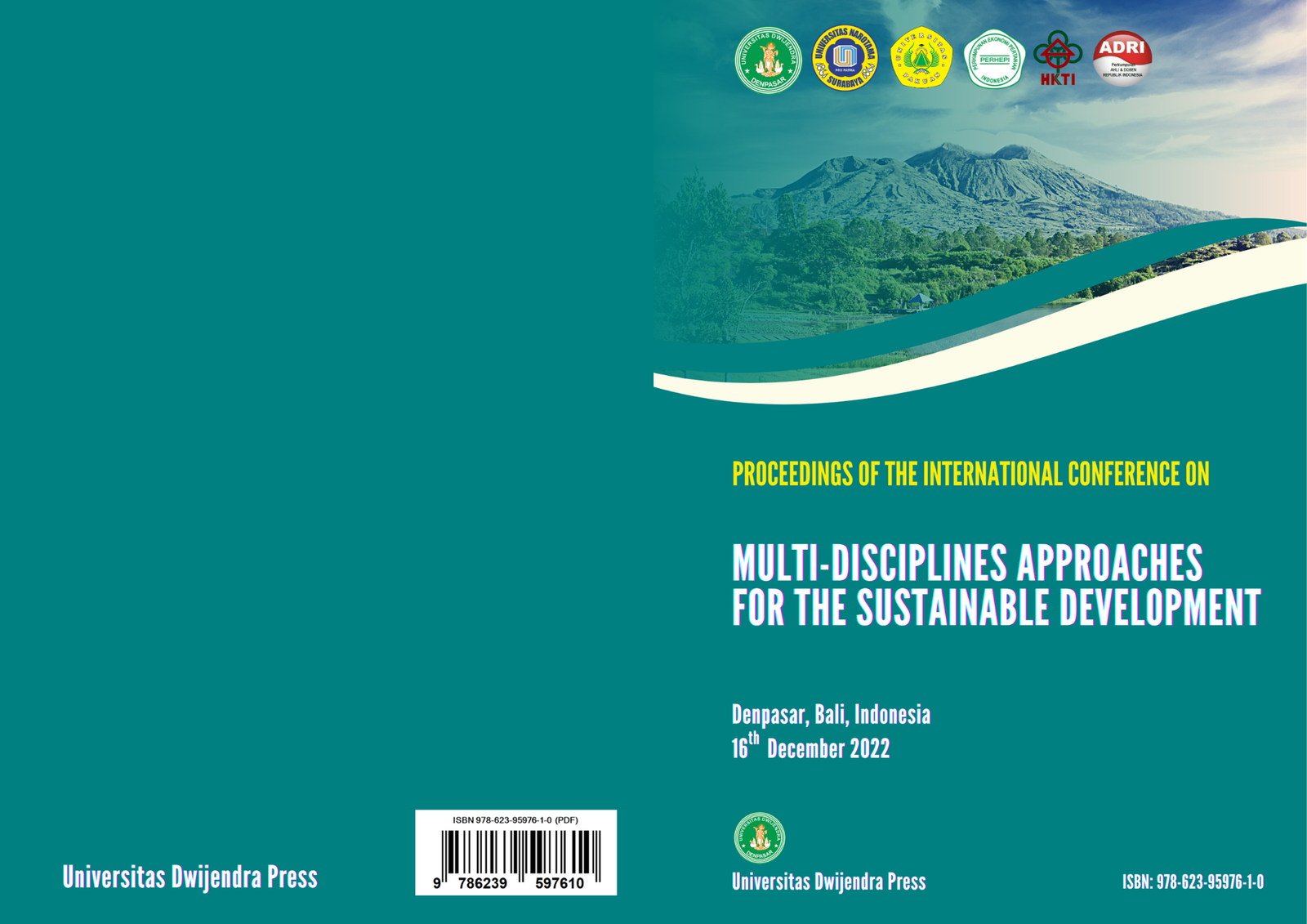 How to Cite
I Putu Ariana, & Anak Agung Mirah Setia Pertiwi. (2023). CONSERVATION OF LANGUAGE, LITERATURE, AND SCRIPT OF BALINESE THROUGH DIGITAL MEDIA. Proceedings of The International Conference on Multi-Disciplines Approaches for The Sustainable Development, 416-422. Retrieved from https://eproceeding.undwi.ac.id/index.php/mdasd/article/view/294