DEVELOPMENT OF THE POTENTIAL OF SALT FARMERS IN KUSAMBA VILLAGE, DAWAN DISTRICT, KLUNGKUNG REGENCY
Ida Ayu Candrika Dewi

Universitas Dwijendra
Keywords:
Salt Farmers, Marketing potential
Abstract
Tourism development, especially in Bali, is based on three elements. These three elements are society (people), nature, and culture. Klungkung Regency is one of the regencies where most of
the population works in the agricultural sector. Judging from the geographical conditions of Klungkung Regency which has an archipelago area, Klungkung Regency has potential in developing the salt business. The reality on the ground is that Klungkung Regency, which has a processing center as a salt user, still depends on salt supplies from outside Bali. The problem of not optimal salt production by salt farmers is as follows: the entry of salt supplies from outside at low prices so that traditional salt farmers in Kusamba Village feel pressured and cannot determine the selling price, inadequate income so that it is not sufficient for needs due to work in the agricultural sector This salt is very dependent on weather conditions. The potential that can be seen from this research are: a) product quality, b) product marketing, c) business profits and d) product competitiveness. The conclusions drawn are the potential of the salt farmers in Kusamba Village: (a) The color quality of the salt produced is white, clean, in terms of taste it is also not bitter, the texture of the salt is small and smooth, clean from dust, (b) In simple terms, the packaging of salt products is still less attractive so that product marketing is less attractive to consumers, (c) The business profits obtained by salt farmers are mostly only used for consumption and only enough for their daily needs but for education and savings they can only set aside a little (d) Salt production in Kusamba Village has not been able to export yet but is still able to compete in its own area. Suggestions taken by salt farmers must develop a salt production business so that it has high competitiveness and to provide opportunities to become an export commodity, improve the quality of packaging, develop product marketing and the need for institutions to organize farmers.
References
Assauri.2002. Manajamen Pemasaran: Konsep Dasar dan Stategi Cetakan Ke- 7. Jakarta:
PT. Raja Grafindo Persada.
Candra.2002.Strategi Dan Program Pemasaran.Yogyakarta: Adi.
Dewi, I.A.C.2021. Distribusi Pemasaran Sayur Bunga Kol (Brassica Oleracea) Di Desa Baturiti
Kabupaten Tabanan. Jurnal Widyasrama Vol 33 No.1 (2022)
Fandi, Tjiptono,1995, Strategi Pemasaran, Edisi pertama, Adi Offsed.Yogyakarta .
Fandi,Tjiptono, 2002,persefsi manajamen dan pemasaran dan pemasaran
kontrerprorer,penerbitan Adi, Yogyakarta.
Kartini, 2000.Manajamen Pemasaran.Kartini 2000. Pertanian Organik.
Kotler. 2002. Manajamen Pemasaran Edisi Milinium, PT Pren Bhalindo
Sumodiningrat, Gunawan. 1995. Pembangunan Daerah dan Pemberdayaan Masyarakat. Jakarta : PT. Bina Rena Prawira
Yogana, I Putu Bagus.2016.Potensi dan Pemberdayaan Petani Garam di Desa Kusamba Kecamatan Dawan Kabupaten Klungkung. E-Jurnal Agribisnis dan Agrowisata Vol.5 No.3 Juli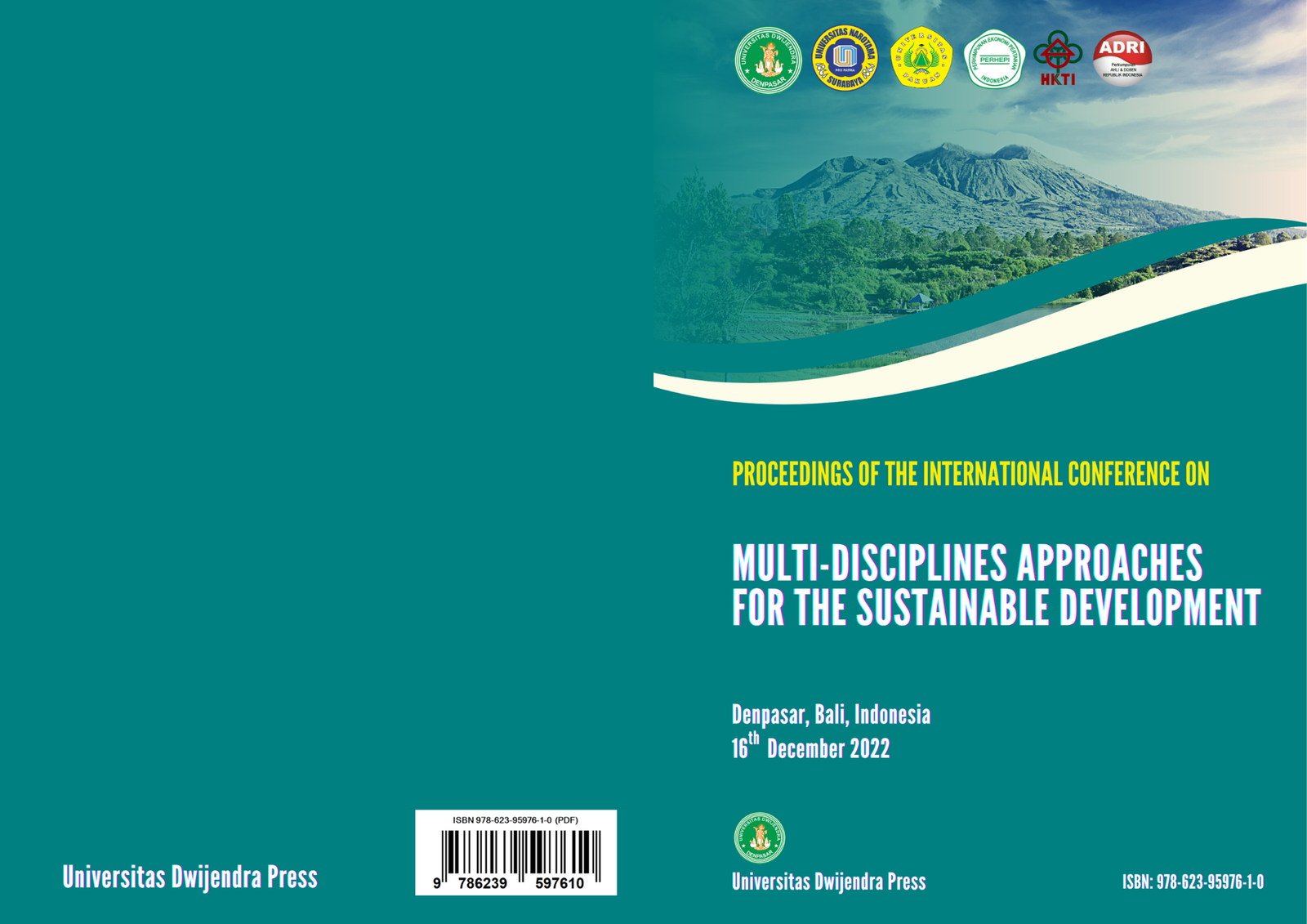 How to Cite
Ida Ayu Candrika Dewi. (2023). DEVELOPMENT OF THE POTENTIAL OF SALT FARMERS IN KUSAMBA VILLAGE, DAWAN DISTRICT, KLUNGKUNG REGENCY. Proceedings of The International Conference on Multi-Disciplines Approaches for The Sustainable Development, 392-396. Retrieved from https://eproceeding.undwi.ac.id/index.php/mdasd/article/view/287