KREATIVITAS DAN SENI RANCANG BANGUN DI ERA REVOLUSI INDUSTRI 4.0
I Ketut Siandana

Sian D"Sain Konsultan Arsitektur
Abstract
The Fourth Industrial Revolution is a challenging era at once as a chance for the architectural world. The architects are obligated to be able to catch the chance and to adapt their profession on the digital and cyber era if their identity still exists. The study is qualitative research with interpretative descriptive approach. The relationship theory of Michel Foucault's power-discipline becomes the analysis base on the primary and secondary data. The research result shows that the creativity and art strength in the domain of design, are still becoming the important point for the architects at the fourth "their flexibility", the architect will be capable to manage every their design project. The ability to transform the local genius in the present nuance should be explored as a part of the digital
community's collective creativity. The collaborations between the strength creativity power and art, with the digital and cyber technology (virtuality), become a challenge at once as a profession chance for the architects at future.
References
Csikszentmihalyi, Mihaly.1997. Creativity: Flow and the Psychology of Discovery and Invention. New York: Harper Perennial.
Ghiselin, Bewster. 1960. The Creative Process. New York: A Mentor Books.
Holt, Knut. 1983. Product Innovation Management. London: Butterworths.
Piliang, Yasraf Amir. 2018. Medan Kreativitas Memahami Dunia Gagasan. Yogyakarta: Cantrik Pustaka.
Schwab, Klaus. 2016.The Fourth Industrial Revolution. Tersedia dalam https://www.weforum.org/about/klaus-schwab (akses 22 Juni 2019).
Tabrani, Primadi. 2006. Kreativitas & Humanitas: Sebuah Studi tentang Peranan Kreativitas dalam Perikehidupan Manusia. Yogyakarta: Jalasutra.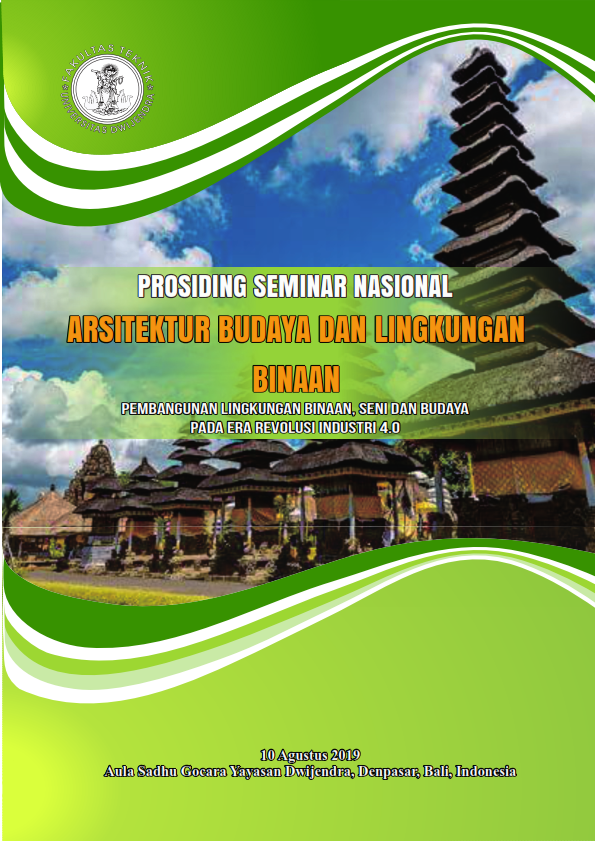 How to Cite
I Ketut Siandana. (2019). KREATIVITAS DAN SENI RANCANG BANGUN DI ERA REVOLUSI INDUSTRI 4.0. Seminar Nasional Arsitektur, Budaya Dan Lingkungan Binaan (SEMARAYANA), 1(1), 21-26. Retrieved from https://eproceeding.undwi.ac.id/index.php/semarayana/article/view/8