IMPLEMENTASI PENDIDIKAN KARAKTER MELALUI PEMBELAJARAN INTERGRALISTIK
(Tinjauan Teoretis)
Anak Agung Gde Putera Semadi

Program Studi Pendidikan Bahasa Indonesia dan Daerah, Fakultas Keguruan dan Ilmu Pendidikan, Universitas Dwijendra
Keywords:
Character education, integral learning
Abstract
The Indonesia that used to known as a cultured nation, friendly, difference appreciated and having a well-mannered have to begin undergoing the human resource crisis, especially for the character one. Post reformation era, It shows that moral competence achievements which processed through the school and university has not been able to shape the intact graduate personality of reflecting the national culture and character. So, in other to solve the problems, it needs immediately conducting the characters training in effective mode, especially to the youth of the nation, particularly to the children at the school. the character training can be done by conducting the character education to the children at the school by implementing the integral learning concept, for an example by beginning from utilizing the family as an informal educational media, the community as a nonformal educational media, and the school as a formal educational one. Furthermore, it can also be done by holistically applying among  the cultural approach, managerial  approach and cue one. The character educational implementation through the integral teaching-learning can be also done by the way of organizing the character-based approach into every existence subject, besides the special subjects to the character education, such as the religion subject, history, Pancasila, the local humanities and culture.
References
Aduan, Habib, 1999. Agama Masyarakat dan Reformasi Kehidupan. Denpasar: PT. BP.
Arsana, dkk. 1993/94. Pembinaan Budaya Dalam Keluarga Daerah Bali. Denpasar: Depdiknas.
Azra, Azymardi, 1999 a."Membangun Kembali Karakter Bangsa: Peran dan Tantangan Perguruan Tinggi", makalah disampaikan pada Dies Natalis ke-50 Univeritas Gajah mada, 13 November.
Azra, Azymardi.1999 b. "Pembinaan Pendidikan Akhlak Didik pada Era Reformasi", pokok-pokok pikiran untuk seminar tentang Pendidikan. Anak dalam Indonesia baru, Depag RI, Jakarta, 2 November.
Azra, Azymardi.2000 b. "Membangun Keadaban Demokratis ke Arah Budaya Politik
Baru Indonesia". Kompas,edisi khusus 35 tahun, 28 Juni.
Azra, Azymardi.2002. Paradigma Baru Pendidikan nasional, Rekonstruksi dan Demokratisasi. Jakarta: Kompas.
Badan Perkembangan Pendidikan Nasional. 1995. Pendidikan Budi Pekerti: Upaya Mempertahankan dan Mengembangkan Jati Diri/Identitas Bangsa. Jakarta: BPPN.
Fraenkel, Jack R. 1977. How To Teach About Values Analytical Approach, Englewood, Nj: Prentice.
Hendarman.2000. "Pendidikan Budi Pekerti: Bagian dari Upaya Pembentukan Watak Manusia Indonesia",Jurnal Pendidikan dan Kebudayaan, No. 021, Tahun V, Januari.
International education foundation, 2000. "The Need for Character Education", makalah pada National Conference on Character Building, Jakarta, 25-26 November.
Kelompok kerja, l999.Rangkuman Filosopi, Kebijaksanaan dan Strategi Pendidikan Nasional, Jakarta: Depdikbud.
Koster, I Wayan, 1999. "Akselerasi Pengamalan Ajaran Agama Hindu Melalui Pendidikan Budi Pekerti", makalah disampaikan pada Seminar Nasional Akselerasi Pengamalan Ajaran Agama Hindu Melalui Pendidikan Budi Pekerti di Indonesia, STAH Denpasar, 14 April.
Koyan, I Wayan, 1999. "Pendidikan Karakter: Suatu Pendekatan Komprehensif', Aneka Widya STKIP Singaraja, edisi khusus th XXXII, September.
Navis, AA, 1999. "Pendidikan Dalam Membentuk Watak Bangsa", makalah disampaikan dalam Diskusi Ahli tentang Pendidikan Indonesia untuk Masa Depan Pendidikan yang Lebih Baik, Yayasan Fase Baru Indonesia, Jakarta, 25 Oktober.
Phillips, C. Thomas, 2000. "Family as The School of Love", makalah pada Nasional Conference On Character Building, Jakarta, 25-26 November.
UNESCO,1998. Higher Education in The Twenty-First Century:Vision an Action, Paris. Zamroni,2000. Paradigma Pendidikan Masa Depan, Yogyakarta: BIOGRAF Publising.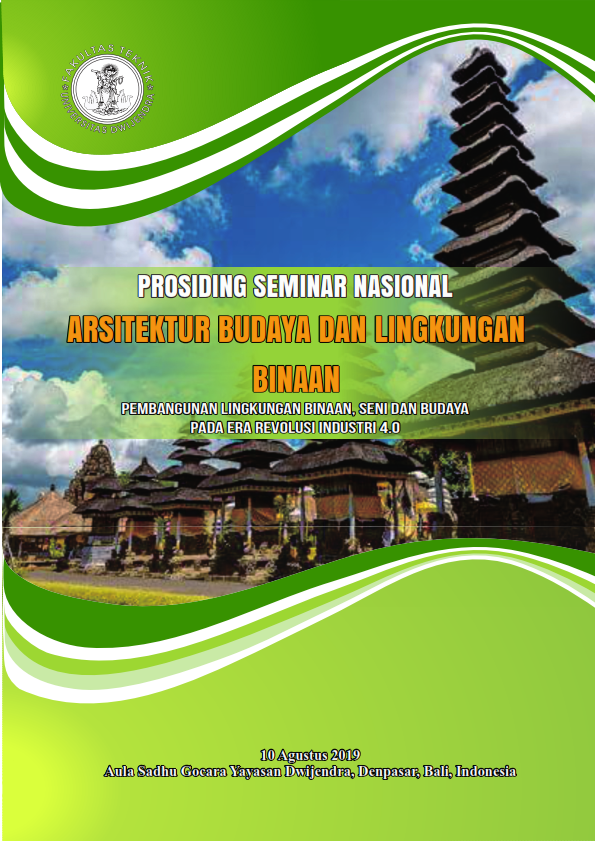 How to Cite
Putera Semadi, A. A. G. (2019). IMPLEMENTASI PENDIDIKAN KARAKTER MELALUI PEMBELAJARAN INTERGRALISTIK. Seminar Nasional Arsitektur, Budaya Dan Lingkungan Binaan (SEMARAYANA), 1(1), 223-232. Retrieved from https://eproceeding.undwi.ac.id/index.php/semarayana/article/view/29