PENGARUH MODERNISASI TERHADAP MATERIAL BANGUNAN RUMAH TINGGAL TRADISIONAL DI DESA ADAT TENGANAN
I Gede Bagus Rae Indra

Program Studi Arsitektur, Fakultas Teknik, Universitas Dwijendra
Keywords:
modernization, traditional houses, Traditional Village of Tenganan
Abstract
Tenganan Traditional Village is one of the tourist villages in Bali located in Manggis District, Karangasem Regency in the eastern part of the island of Bali. As one of the rural tourist attractions, Tenganan Village has a tourist attraction in the form of unique spatial patterns and traditional building architecture, traditions and distinctive social cultural life of the community, as well as typical villagers' handicrafts such as woven bamboo, carvings, paintings on leaves lontar and woven fabric.
But lately there have been concerns about the continued development in the village of Tenganan, at this time traditional Tenganan houses have undergone many changes in residential buildings, especially in building materials. The condition of the people who have begun to abandon traditional building materials and turn to modern building materials, has made the loss of the Tenganan community identity on its architecture. So we need special attention in preserving the traditional Tenganan house building to be able to introduce traditional Tenganan home culture to its architecture, and still show the cultural identity of the traditional Tenganan house to the new buildings that will be occupied by the community.
Some things that have experienced modern effects are in terms of building materials, roofs, walls and bars. An effort is needed together with the government and the community to preserve traditional residential houses in the Tenganan Customary Village so that sustainable development can be realized.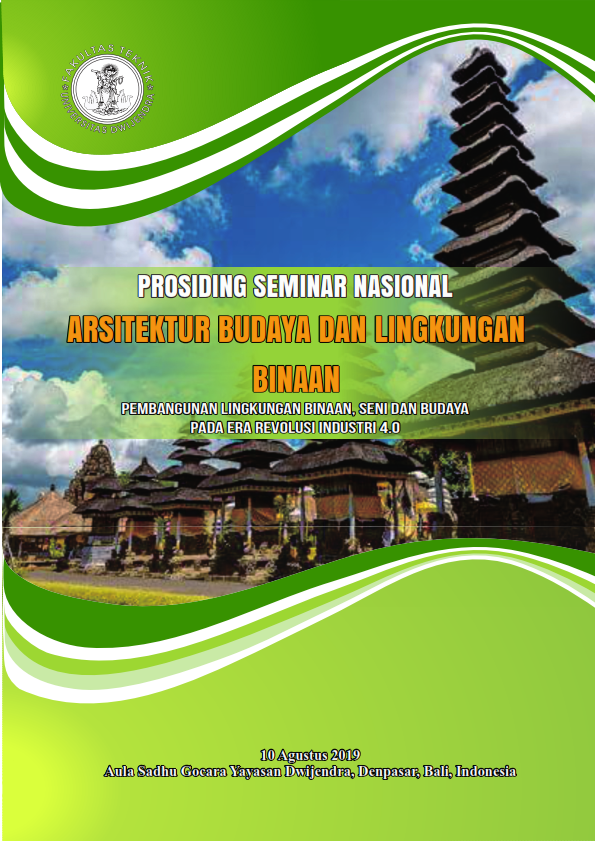 How to Cite
Rae Indra, I. G. B. (2019). PENGARUH MODERNISASI TERHADAP MATERIAL BANGUNAN RUMAH TINGGAL TRADISIONAL DI DESA ADAT TENGANAN. Seminar Nasional Arsitektur, Budaya Dan Lingkungan Binaan (SEMARAYANA), 1(1), 167-176. Retrieved from https://eproceeding.undwi.ac.id/index.php/semarayana/article/view/25